I have a horrible confession to make.
…I had never heard Neil deGrasse Tyson speak until this Thursday.
I know, I know – I am a horrible skeptic and scientist. I pretty much assumed he was awesome, since everyone I think is awesome thinks he's awesome. But I hate watching YouTube videos, and I don't watch TV much. I much prefer to read things, and usually that's in the form of blogs since I'm so busy. And since he's not really a blogger…
…Excuses aside, I have a new hero.
Tyson's talk was absolutely fabulous. There was no set topic – it was basically his musings on everything from black holes, Pluto, how much American science education sucks, the mathematically illiterate, religion – but it was all so extremely interesting. He ended up speaking for about two and a half hours total, but I could have listened to him for five more. It went so quickly.
But he inspired me. If I can be half as good of a speaker as he is when I'm his age, I'll feel like I accomplished something. He oozed with passion. He interacted with the audience. He joked and laughed and spoke in a way that didn't put him up on some academic
pedestal
. He started his talk by slipping off his shoes, and would literally dance around the stage with excitement. He kept asking for more questions during the Q&A, despite a flight he needed to catch and an organizer that was trying to close the show.
He cared about what he was doing, and he made you care too.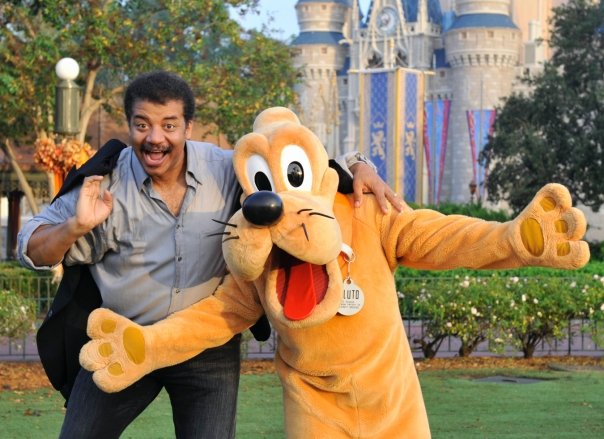 For one thing, he made me remember why I used to love the universe so much. Astronomy was my first scientific love. I was in our elementary school's astronomy club, I memorized all of the constellations, and I dreamed about going to Space Camp. When I was older I gobbled up popular science books like the Elegant Universe by Brian Greene. Unfortunately, between horrendous math classes and Purdue's soul-
suckingly
bad physics courses, I drifted away from the field, convinced it was all boring number crunching.
After having my mind blown throughout the night, thinking about diverting murderous astroids, multiple universes, dark matter, and our mindbogglingly tiny existence, I remembered why I loved this stuff.
But he also inspired me to be a better speaker. I know I've only really been doing "professional" speaking for about a year, so I shouldn't be too hard on myself. But I'm so motivated to be just as energetic and compelling as him. People like Tyson get people to fall in love with science more than a boring lecturer that churns out homework assignments. And I've seen far too many boring lectures, even from some writers and skeptics I admire. Not everyone has the talent, but I feel like I have a little spark within me – I can't wait to nurture it until I'm an inferno of passion like Tyson.
Before the talk I quipped to my friend that I hoped Tyson wasn't giving this same talk at TAM. At the end, I turned back to my friend and corrected myself. I would be happy to sit through that exact same talk again – that's just how good it was.
…The fact that I'm going to be speaking at the event he's keynoting makes me feel a little unworthy. But I can't wait to meet him in person.
For those of you who aren't youtubephobic like I am, feel free to share you favorite Neil deGrasse Tyson clips in the comments. More people need to be initiated into his awesomeness!
…Unless I'm the last person on the planet to do so, in which case, feel free to make fun of me.