One consequence of my being home for the holidays is watching a lot of football with my dad. I'm currently watching Florida destroy Florida State, but the conversation at the McCreight house isn't focused on football – it's on Tim Tebow.
Tebow is the senior quarterback for Florida. He's well known not only for his great football skills, but for his evangelical Christianity. He was home schooled by missionary parents and noticeably writes Bible verses across his face while playing. For example: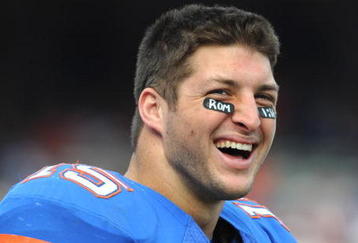 Personally, I have no idea why he's allowed to do this (and neither does my dad – yay ranting about religion with your family). I have a really hard time imagining a football player being able to write "Allahu akbar" across his face in Arabic, or even worse, "There is no God." Even if the NCAA would legally allow these other sayings, the fallback from fellow players, coaches, and fans would be so great that a Muslim or atheist player probably wouldn't even consider it. I don't know about you, but I feel uneasy enough labeling myself as an atheist on the internet – I'm not going to do it when 300 pound men are actually supposed to come tackling me.
But it's not just because of its religious. By writing anything distinctive on his face, he's drawing attention to himself. Showboating after touch downs is explicitly forbidden in college football, yet drawing attention to yourself with Bible verses is okay? I guess the news network is partially to blame for this. CBS is currently using every chance to zoom in on Tebow's face and use that as TV filler – would they be doing this without the Bible verse? No, at least no where near to this extent.
If that's not enough, the CBS announcers took the time to read the actual verse that Tebow was referencing today. It was Heb 12: 1-2, though they only read the first line:

1Therefore, since we are surrounded by such a great cloud of witnesses, let us throw off everything that hinders and the sin that so easily entangles, and let us run with perseverance the race marked out for us. 2Let us fix our eyes on Jesus, the author and perfecter of our faith, who for the joy set before him endured the cross, scorning its shame, and sat down at the right hand of the throne of God.
Good call leaving off all the Jesus heavy part, at least. They claimed they should read it since it was obviously important enough for him to select and write on his face. So do I get to select passages I find meaningful and have them read on national television? Yes, if it's a Bible verse.
This isn't about censoring Christians so that they can never talk about their faith. There is a time and place for such discussions, and representing a public university in college football is not it. This is about illustrating that you're rewarded for expressing your Christianity, but everyone who disagrees better keep it to themselves. Christians are a privileged group, and crying "Oppression!" as loudly as they can doesn't change the facts.